Arguably the most technologically advanced and player-friendly racquets on the market, the Disruptive Racquet Series was designed in part by 5-Time World Champion, Sudsy Monchik. Dunlop's engineers were inspired by nature when designing their Biomimetic technology, producing racquets with a greater head speed for more power and reduced shock on ball impact. You are sure to shake up your opponents when you show up to the courts with this new line.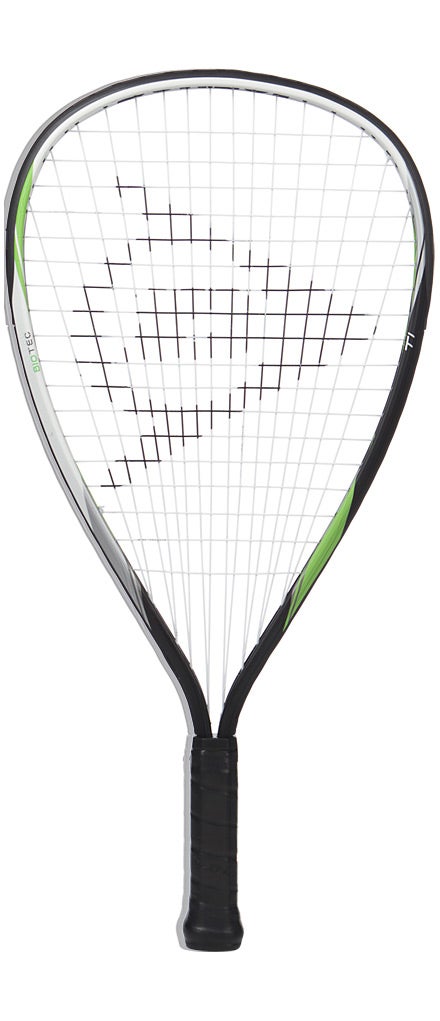 Dunlop Biotec Ti Racquet
review
demo
feedback
Sale: $24.99
Dunlop Grommets can be found here.
The "D" in Dunlop should stand for durability, because their bags are just that, plus tons of room for all your racquets and gear. Made for competitive or recreational play, the Dunlop Racquetball Club Bag features a thermo-lined compartment to protect your racquet investment when you leave it in the car.
Blue racquetballs are the most widely used recreational ball in the U.S., and the new Dunlop Atomic Blue racquetball is 40% more visible than the leading competitor. Perfect for any player from beginner to a professional, Dunlop Atomic Blue Racquetballs will give you the ability to hit bombs at your opponent!
Dunlop has always been about making a durable, playable, and comfortable string to hit with.
Dunlop Racquetball Eyewear offer a lightweight, sleek ride with funcitionality as the main focus. Offering a top-quality, tight-fitting eyewear for adults in the I-Armor, and the perfect fit for a junior or adults with a smaller face in the Junior. Protect your valuable eyes with Dunlop Eyewear!