Ektelon 2014-15 EXO3 ESP Toron 150 Racquet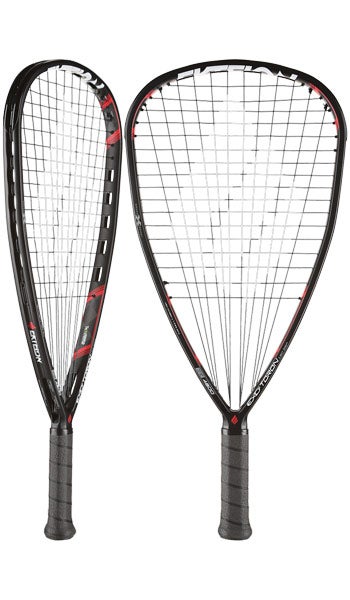 The EXO3 ESP Toron 150 is the lightest racquet Ektelon has ever produced! Reinforced by TeXtreme (a thinner, lighter, and more durable way to weave carbon fibers) in four key areas of the frame provides torsional stability and enhanced durability. The speed and maneuverability of this racquet is backed by a 10 point head-heavy balance that provides excellent power and follow through for your swing. Packed with Ektelon innovation, this stick features a combination of a large sweetspot (EXO3 ports), long main-strings (DPR - Double Power Ring), plus one of the most open string patterns in the game (ESP - Extreme String Pattern). The Toron 150 is perfect for players who love power and leave it all on the court!
---
All racquets come factory strung with a wrist cord installed. Click the Specs tab for more details.
Unstrung Weight: 150g*
Strung Weight: 174.2g
Strung Balance: 10 pts Head-Heavy
Strung Swingweight: 150 kg x cm² (medium dynamic inertia = power & control)
Ektelon Power Level: 4800
Factory String: Ektelon Premier Power 17
Factory Grip: Ektelon Maxtack Wrap Grip
Cover: Not included by manufacturer
String Pattern:
12 Mains / 17 Crosses
Mains skip: 5H, 7H
Two Piece
No shared holes
Head Size: 106 sq. in.
Racquet Length: 22 in.
Composition: GraphitXtreme w/ TeXtreme
*Unstrung weight is part of the name given to this racquet by the manufacturer; all other specs are measured by Racquetball Warehouse USRSA Master Racquet Technicians on a Babolat Racquet Diagnostic Center machine. String never weighs more than 25 grams, so if there is more than a 25 gram variance between Unstrung Weight and Strung Weight then the manufacturer most likely measured the Unstrung Weight of the raw graphite frame (i.e. without grip, grommets, or paint). In addition, due to the porous nature of graphite material, manufacturers approve of a +/- 10 gram variance during the manufacturing process.