Wilson 2013 Buzzsaw Racquet XS (3 7/8)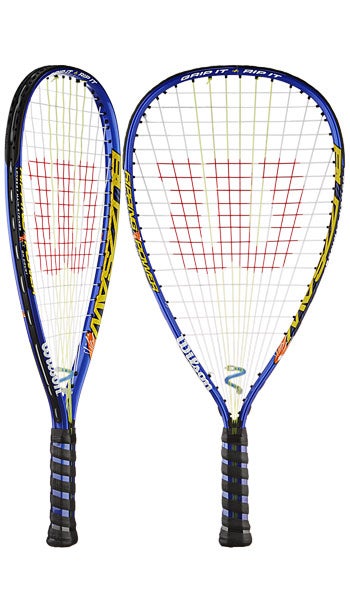 A perfect racquet for the entry-level recreational player, the Wilson Buzzsaw Racquet has been updated for 2013. All the weight behind this frame provides the power to keep your opponent on their back foot, allowing you to focus on your form and technique. Features 22' long main-string Power String Technology to deliver welting kill shots. Constructed from Airlite® Series 6000 Tactical Alloy using Volcanic Cross Sections for a stronger frame that resists fatigue.
All racquets come factory strung with a wrist cord installed. Click the Specs tab for more details.
Head Size: 107 sq. in. / 690 sq. cm.
Length: 22 inches / 56 cm
Unstrung Weight: 215g / 7.6oz
Strung Weight: 238.136g / 8.4oz
Balance: 11.275in. 2.2 pts Head Heavy
Swingweight: 161
Factory String: Wilson Nylon 15L
Composition: Series 6000 Tactical Aluminum Alloy
Grip Type: Wilson Micro Dry Hybrid
Cover: Not Included
String Pattern:
14 Mains / 18 Crosses
Mains skip: 5H, 7H, 9H, 10H
Two Piece
Shared Holes: 11H
String Tension: 28-33 pounds