Ektelon 2014 EXO3 Re Ignite 180 Racquet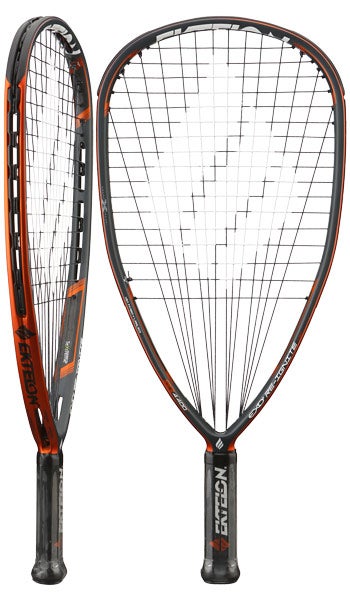 Featuring a more powerful, head-heavy balance compared to the previous version of the Re Ignite, you'll truly be able to Play With Fire™ using the 2014 Ektelon EXO3 Re Ignite 180 Racquet. Now reinforced with TeXtreme (a thinner, lighter, and more durable way to weave carbon fibers) in four key areas of the frame for torsional stability and enhanced durability. If you've considered other racquets in the same weight class, such as the ESP Toron Pro 180, but you prefer a racquet head shape that provides a larger, more forgiving sweetspot, this racquet would be well suited for your play style. In addition, Ektelon innovations like their EXO3 ports and Double Power Ring throat design allow for maximum string movement and power.
---
All racquets come factory strung with a wrist cord installed. Click the Specs tab for more details.
Unstrung Weight: 180g*
Strung Weight: 202.2g
Strung Balance: 1 pt Head-Heavy
Strung Swingweight: 151 kg x cm² (medium dynamic inertia = power & control)
Factory String: Ektelon Premier Power 17 Black
Factory Grip: Ektelon Vision II Clear
Cover: Not included by manufacturer
String Pattern:
14 Mains / 17 Crosses
Mains skip: 5H, 7H, 9H, 10H
Two Piece
Shared Holes: 11H
Head Size: 106 sq. in.
Length: 22 in.
Composition: GraphitXtreme with TeXtreme
*Unstrung weight is part of the name given to this racquet by the manufacturer; all other specs are measured by Racquetball Warehouse USRSA Master Racquet Technicians on a Babolat Racquet Diagnostic Center machine. String never weighs more than 25 grams, so if there is more than a 25 gram variance between Unstrung Weight and Strung Weight then the manufacturer most likely measured the Unstrung Weight of the raw graphite frame (i.e. without grip, grommets, or paint). In addition, due to the porous nature of graphite material, manufacturers approve of a +/- 10 gram variance during the manufacturing process.