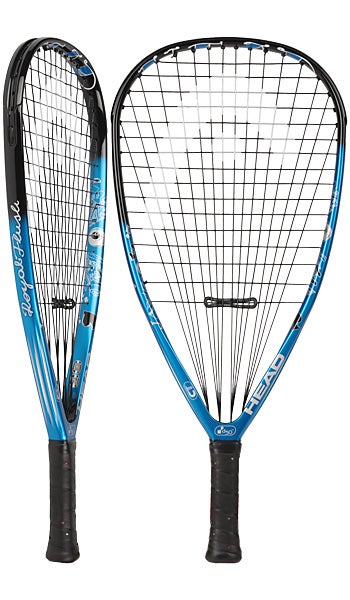 Head Royal Flush 170 Racquet
$119.95
Head set a standard last year with their Corrugated Technology and their fresh, edgy cosmetics. This year it is all about YOU(TEK). The new Head line incorporates all technologies necessary to maximize your performance. Newly added to the throat is the 'smart material' d3o which changes its behavior under dynamic loading and impact. Basically, if you hit hard it stiffens to maximize power, if you hit softly it stays flexible providing the touch you need.
Stack the Deck in your favor this year with the Head Royal Flush, coming in at 170 grams unstrung. True to Head's style, this racquet comes in Head Heavy, however less so than previous models. This more even balance provides greater control and maneuverability while maintaining the power you expect. Also added is the new Aramid Bumper - similar to kevlar this bumper guard increases durability at the head while also reducing head weight. For any player seeking max power and surprising touch, the Royal Flush is a must demo racquet for 2010!
This racquet does not come with a cover
Head Size: 106 sq. in. / 684 sq. cm.
Length: 22 inches / 56 cm
Unstrung Weight: 170g / 6oz
Strung Weight: 188g / 6.6oz
Balance: 11.5in. 4 pts Head Heavy
Swingweight: 142
Factory String: Head Megablast 16 @ 35 lbs
Beam Width: 22.5, 20.5, 21.5
Composition: d3o/Microgel/Metallix Graphite
Grip Type: Hydrosorb Wrap
String Pattern:
16 Mains / 16 Crosses
Mains skip: 8H
Two Piece
Shared Holes: 5H,6H,7H,9H
String Tension: 31-37 pounds